Very Pleased
Jayne takes great care and attention to customer and owner. She puts you instantly at ease, answer any question, and gives good advice and tips Lucy looks and smells beautiful. She is already booked in for her next pamper date.
Wendy
The Best Dog Grooming Parlour....Ever !!
From the minute you walk in Jayne puts you and your dog at ease and her passion for pets is very apparent.She fully discusses your requirements with you before you leave your pet with her.I have taken my Jack Russell to a few different parlours before but I have always found something that I am not quite happy with - it may be hair on the face left too long or he has simply been cut too short. At Laundromutt Morris is groomed to perfection every time and Jayne makes sure that you are completely happy before leaving the parlour.I would fully recommend this service to anyone that loves their dog and wants them to have a happy experience and be in the hands of someone that really cares. Morris will always go to Laundromutt.
Sarah
I took my Bichon Bosley to Jayne to be groomed for the first time. I just wanted to say I was very impressed with the service that Bosley received he not only looked fabulous but smelt lovely too. I received sound advice on how to keep his coat until our next visit. Thank-you Jayne.
LisaLiLllllLLsa2 Weeks ago I took my Bichon Bosley to Jayne to be groomed
I took a rescue bichon frese who was in a very very matted state it took her 3 hrs to do but her care and time was fantastic i recomend you use this company with out a doubt to the care your dog will recive.
Ms K Rawlins
We took our Springer "Jake" to be clipped here. It's the best I've ever seen him look after being groomed and we're so happy we found this place. Definitely recommend and thank you Jayne, you do a sterling job!
Ben
I have a very excited and energetic sheepdog called Jaz. He went in smelling awful after rolling in something un-mentionable and left smelling and looking posh!! I would recommend Jayne as she is very professional and easy to talk to....and very knowledegable in her field. A great salon.
Lauren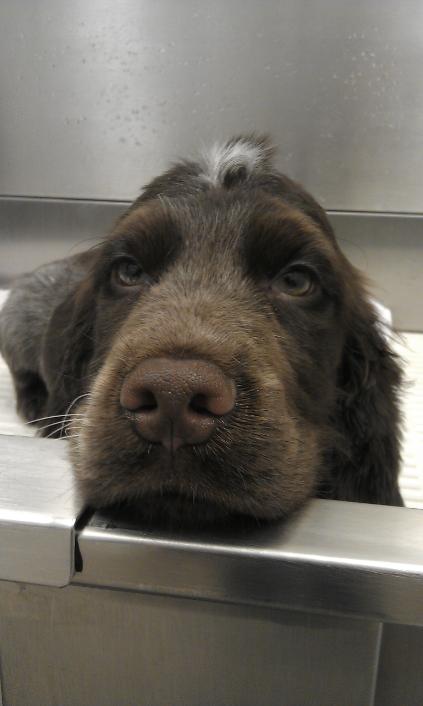 We had "Amber" our Westie clipped and washed at Laundro-mutt Burntwood with Jayne, we're very very pleased and would recommend to anyone.
Dave Webster
"I'm thrilled with our new grooming service in the Burntwood area where I live. Jayne the salon owner made a really lovely job of our springer's. I would highly recommend jayne for all your dog grooming needs. "
Helen